0-001 Resonant Excitation of Sexual Orgasms(CD-ROM Book)
0-001D Resonant Excitation of Sexual Orgasms (download for Windows XP or 7, Linux , Mac, & Tablet Computers)
0-003 Vacuum-cupping Massage Tool Set + DVD
1-001E PeniSOS + 1-oz Energia; 1-001F PeniSOS + 1-oz Fibra
1-002 ViaDopa
1-004E ViaGrowth-III + 1-oz Energia; 1-004F ViaGrowth-III + 1 oz Fibra
1-005E ViaGrowth-IV + 1-oz Energia; 1-005F ViaGrowth-IV + 1 oz Fibra ; 1-005V ViaGrowth-IV + ViaDopa
1-009 Energia (1-oz) & 1-010 Energia (2-oz)
1-012 Fibra (1-oz) & 1-013 Fibra (2-oz)
1-014 MoodMax & 1-015 VIP Cream
1-016 DopaFibra, 1-017 DeToxiA, & 1-018 ArgiNOx
2-001 5-HTP, 2-002 PinealTonin & 2-007 Ginseng 4X+
2-003 REST Cream
2-004 Vitamin D, 2000 IU, 150 softegels
2-005 Omega 3 Fish Oil, 90 softegels, Triple Strength, Enteric Coated, 1400 mg with 980 mg Omega-3.
2-006 Vitasee
3-001 Heat Tea & 3-005 LastLonger
3-002 SeeClear (= DopaFibra + Vitasee)
3-003 SeeLonger(= MoodMax+ Vitasee)
3-006 Endura & 3-008 LoveLonger
3-009 ViaPal-hGH-X & 3-010 ViaPal-hGH-P
3-011 ViaPal-hGH-E & 3-012 ViaPal-hGH-D
3-013 ViaPal-hGH-S & 3-014 ViaPal-hGH-M
3-015 ViaPal-hGH-J & 3-016 ViaPal-hGH-C
3-017 ViaPal-hGH-N & 3-018 ViaPal-hGH-O
3-019 ViaPal-hGH-V & 3-020 ViaPal-hGH-A
3-021 ViaPal-hGH-I (= ViaGrowth-IV + MoodMax + Vitasee)
3-022 ViaPal-hGH-F(= ViaGrowth-IV + ViaDopa + Vitasee)
3-023 ViaPal-hGH-H (= ViaGrowth-IV + DopaFibra + Vitasee)
3-024 ViaPal-hGH-L (= PinealTonin + MoodMax + Vitasee)
Catalog of Products and Services
Extra Cost for Upgrading from USPS Parcel Mail to International Priority Mail
Special Order Product: Vinpocentine
Your Account
Your Shopping Cart




3-003 SeeLonger(= MoodMax+ Vitasee)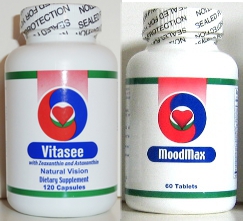 SeeLonger consists two products: The pro-acetycholine, anti-inflammatory, and moderate pro-dopamine-enhancement. MoodMax (click here for detail) and the anti-degeneration vision formula VitaSee (click here for detail) for young people who want to improve and restore their deteriorating vision due to excessive stress or sexual exhaustion. The retinal dopamine and cholinergic/NO-ergic nervous function are responsible for a faster response and eye blood circulation to clarify the GABAergic function during light transition from dark to bright. MoodMax can also reduce eyeball inflammation and pupil dilation that cause blurry vision. MoodMax contains acetylcholine precursor and arterial relaxation herbs to maintain the visual nervous sensitivity and blood circulation under stress. MoodMax has demonstrated nervous sensing benefits in vision, taste and hearing improvement and restoration, as listed in http://www.actionlove.com/extra/relate.htm (click here) where you can search "MoodMax" to find them out.

Some people experience instantaneous eye floater during light transition. A faster retinal dopaminergic nervous action in clearing GABA will solve this problem. The fastest vision sensing response to light transition requires both dopaminergic and cholinergic nervous action in the sensing and transmission circuits. MoodMax can prolong the central nervous system to release both neurotransmitters to achieve seeing longer and clearer without eyeball inflammation.
VitaSee is the most effective supplement for vision support. It can help you to improve or restore the exhausted or stressed-out visual nerves, reduce eyeball inflammation that gives your blurry vision, and slow down visual degeneration, although it won't help you to see through a cloth. When your vision starts to deteriorate by whatever reasons such as sexual exhaustion, excessive stress, or natural aging, you should take it daily.

Why is VitaSeethe most effective supplement for vision support? The main ingredients are listed in http://vitasee.com/Vitasee.htm and outlined below: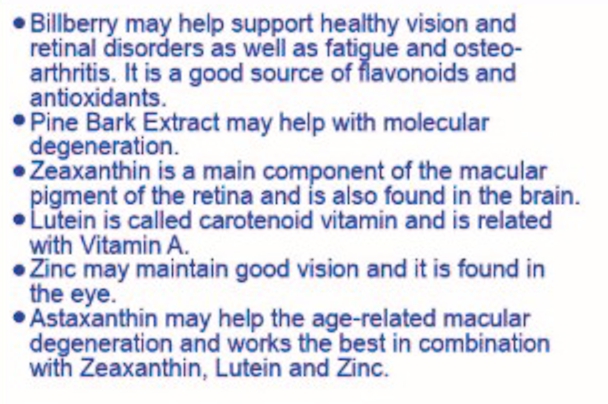 The label:



Quantity